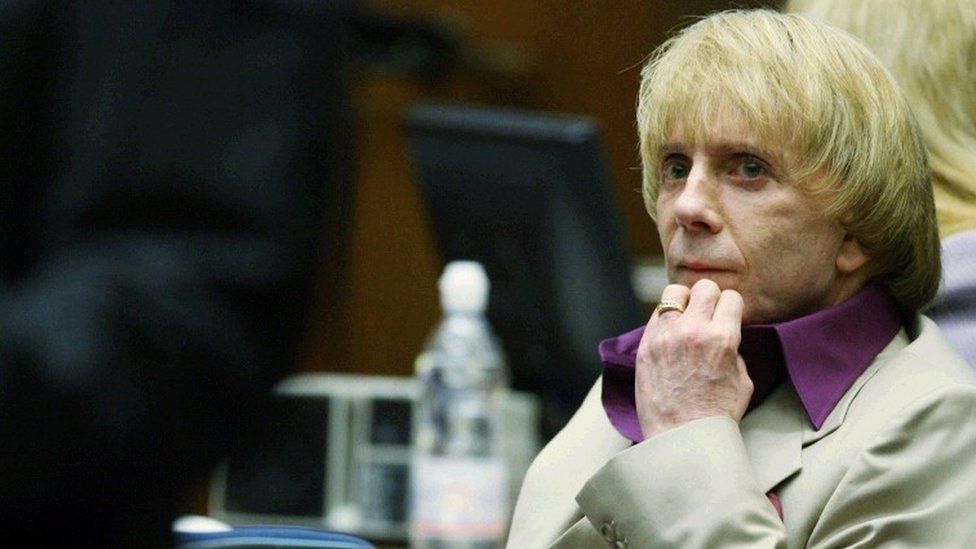 Phil Spector, one of the most influential and successful record producers in rock 'n' roll, who generated a string of hits in the early 1960s by the Crystals, the Ronettes and the Righteous Brothers defined by the lavish instrumental treatment known as the wall of sound, and who was later sentenced to prison for the murder of a woman who was shot to death at his home, died on Saturday. He was 81.
His death was confirmed in a statement from the California Department of Corrections and Rehabilitation. The department said he died "at an outside hospital," and did not give a cause.
Since 2009 Mr. Spector had been serving a prison sentence for the murder of Lana Clarkson, a nightclub hostess he took home after a night of drinking in 2003. The Los Angeles police found her slumped in a chair in the foyer of Mr. Spector's home, dead from a single bullet wound to the head.
After learning the ropes as a record producer, Mr. Spector, the central figure in Tom Wolfe's 1965 essay "The First Tycoon of Teen," became a one-man hit factory. Between 1960 and 1965 he placed 24 records in the Top 40, many of them classics.
His 13 top-ten singles included some of the quintessential "girl group" songs of the era: "He's a Rebel," "Uptown," "Then He Kissed Me" and "Da Doo Ron Ron"by the Crystals, and "Be My Baby" and "Walking in the Rain" by the Ronettes. For the Righteous Brothers he produced "Unchained Melody" and "You've Lost That Lovin' Feeling," a No. 1 hit that became the 20th century's most-played song on radio and television, according to BMI.
Mr. Spector single-handedly created the image of the record producer as auteur, a creative force equal or even greater than his artists, with an instantly identifiable aural brand. "There were songwriter-producers before him, but no one did the whole thing like Phil," the songwriter and producer Jerry Leiber, who died in 2011 and with whom Mr. Spector served a brief but crucial apprenticeship at Atlantic Records, told Rolling Stone in 2005.
His signature was the wall of sound, perfected at Gold Star studios in Los Angeles, where he worked with the engineer Larry Levine, the arranger Jack Nitzsche and a team of musicians nicknamed the Wrecking Crew by Hal Blaine, one of their regular drummers.
With dozens of musicians and backup singers packed into Gold Star's cramped quarters, Mr. Spector layered multiple guitars, basses and keyboards over one another and applied a shimmering gloss of strings. This sonic wave assumed even grander proportions when channeled through Gold Star's resonant echo chambers.
A full obituary will be published soon.
Marie Fazio contributed reporting.
[ad_2]